You are here
Back to top
The Hidden Universe: Adventures in Biodiversity (Hardcover)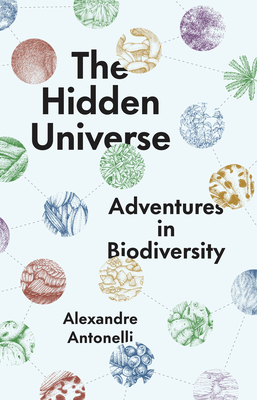 $22.00

Usually Ships in 1-5 Days
Description
---
An unforgettable exploration of the natural world and the concept of biodiversity—what it is, why it matters, and how we as individuals can work to preserve it.
 
We are now living in an environmental emergency. As climate change, habitat loss, and other threats have placed almost one-fifth of all species on Earth at risk of extinction in the coming decades, a deeper understanding of biodiversity has never been more important. Biodiversity encompasses the rich variety of all life on Earth—the building blocks of life that provide invaluable sources of food, medicine, clothing, building materials, and more.

Marking the arrival of a bold new voice in popular science, The Hidden Universe shows readers what's at stake in the fight to protect and restore biodiversity, but also what can and should be done now to protect our planet and ourselves for the future. As director of science at one of the world's largest research organizations in plant and fungal sciences, Brazilian-born scientist Alexandre Antonelli is ideally suited to reveal the wonders of biodiversity at a genetic, species, and ecosystem level—what biodiversity is, how it works, and why it is the most important tool in our battle against climate change. Antonelli offers recommendations for large-scale political changes, as well as smaller, practical steps that readers can implement in their own lives and homes. With Antonelli as our guide, The Hidden Universe helps us imagine a future where biodiversity is not just preserved but cherished.
About the Author
---
Alexandre Antonelli is Director of Science of the Royal Botanic Gardens, Kew. A botanist by training, he is an award-winning professor of Biodiversity at the University of Gothenburg in Sweden, a visiting professor at the University of Oxford, founder of the Gothenburg Global Biodiversity Centre, and one of the world's most cited scientists.
Praise For…
---
"[An] impassioned debut. Through research and globe-trotting anecdotes, Antonelli seeks to answer 'big questions about the origins and evolution of whole ecosystems. . . and how biodiversity has changed, and continues to change.' Along the way, the author gives readers glimpses into ecosystems teeming with diverse life. . . . This timely appreciation of Earth's varied life forms delivers."
— Publishers Weekly

"Biogeography expert and botanist Antonelli presents an easily understood primer on biodiversity. After explaining the five facets of biodiversity—species, genes, evolution, functions, and ecosystems—he offers the reasons biodiversity is important for humans, the health of ecosystems, and the innate rights of species to exist. . . . Readers interested in biodiversity, the environment, or ecology will enjoy this fascinating work."
— Library Journal

"The myriad forms of life on Earth and the ecosystems that sustain them are simultaneously magnificent and menaced. Botanist Antonelli fervently addresses the importance, endangerment, and necessary preservation of biodiversity. . . . A brief, understandable introduction to biodiversity and why it matters so much."
— Booklist

"Engaging and urgent."
— Nature

"The Hidden Universe is a smooth read . . Biological facts are leavened by personal stories Antonelli tells of his 'adventures' as a botanist traveling the world in search of plants."
— NewCity

"Antonelli takes us on a spellbinding adventure across his hidden universe, which he begins as a child, stargazing over the rainforests of Brazil. Passionately, Antonelli tells us how the stars he gazed at remain the same, but all the forests of his childhood adventures have gone: this hidden universe, the natural world, is disappearing before our very eyes. But Antonelli's profound contribution to conservation science persuades us that as long as there are habitats and species left, and a willingness to care for them, we can fix things; put right our disastrous disfigurement of nature, and take one last chance to restore the beautiful natural world we inherited. Antonelli helps us to see a better future, and his gift to the world is hope."
— Chris Thorogood, Deputy Director of the University of Oxford Botanic Garden and Arboretum and author of 'Weird Plants'

"Scientific storytelling is a tough job. After years of training to write in a ruthlessly emotionless and impartial way, it is often totally alien for us science geeks to communicate our passion in books, talks, and on television in the same way we talk in the pub. That's why finding a book like this is so rare: An epic adventure into the miracles of the natural world, guided by one of the world's foremost scientists. This is the escape we all need right now."
— James Wong, ethnobotanist and TV presenter

"The Hidden Universe is a sweeping road map to biodiversity science and conservation, from Linnaeus and the dodo to the Convention on Biological Diversity and pet hamsters. Updated and opinionated, part primer and part autobiographical account, it provides an engaging introduction for those who want to start exploring the main scientific and policy issues around biodiversity."
— Sandra Diaz, professor of ecology, National University of Córdoba

"An extraordinary journey into the world of biodiversity. Accessible and ambitious, the book covers everything from species to climate change, from evolution to nature, from habitat loss to global solutions. Each of these complex topics is covered deftly and intelligently. The Hidden Universe offers a deep and up-to-date insight into biodiversity science in action from one of the world's leading plant scientists."
— Luke Keogh, author of 'The Wardian Case'

"Antonelli is indeed a man for all seasons with a passionate love for the world and its many inhabitants. His accessible writing aims to share that love with readers. Comparing taxonomic description of the natural world to astronomical discovery, he conveys the truly galactic scale of biodiversity (a "hidden universe") before introducing the impending threat of its loss through mass extinction due to habitat loss, exploitation, and waste... Highly Recommended."
— Choice