You are here
Back to top
Let the Old Dreams Die: Stories (Hardcover)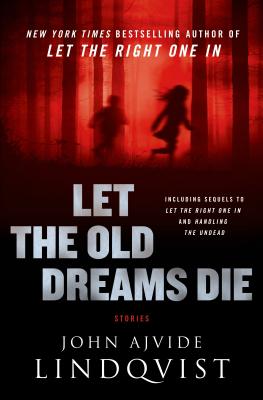 $34.99

Usually Ships in 1-5 Days
Description
---
A classic short story collection from the writer called Sweden's Stephen King that continues the breathtaking story begun in the internationally acclaimed classic Let the Right One In


Because of the two superb films made of John Ajvide Lindqvist's vampire masterpiece Let the Right One In, millions of people around the world know the story of Oskar and Eli and of their final escape from Blackeberg at the end of the novel. Now at last, in "Let the Old Dreams Die," the title story in this absolutely stunning collection, we get a glimpse of what happened next to the pair. Fans of Let the Right One In will have to read the story, which is destined to generate much word of mouth both among fans and online.

"Let the Old Dreams Die" is not the only stunner in this collection. In "Final Processing," Lindqvist also reveals the next chapter in the lives of the characters he created in Handling the Undead. "Equinox" is a story of a woman who takes care of her neighbor's house while they are away and readers will never forget what she finds in the house. Every story meets the very high standard of excellence and fright factor that Lindqvist fans have come to expect. Totally transcending genre writing, these are world class stories from possibly the most impressive horror writer writing today.
About the Author
---
John Ajvide Lindqvist is the author of Let the Right One In and Handling the Undead. Let The Right One In, his debut novel, was an instant bestseller in Sweden and was named Best Novel in Translation 2005 in Norway. The Swedish film adaptation, directed by Tomas Alfredsson, has won top honors at film festivals all over the globe, including Best Narrative Feature at the Tribeca Film Festival. An American remake, Let Me In, written and directed by Cloverfield director Matt Reeves, was released in October 2010 to rave reviews. Lindqvist grew up in Blackeberg, a suburb of Stockholm and the setting for Let the Right One In. Wanting to become something awful and fantastic, he first became a conjurer, and then was a stand-up comedian for twelve years. He has also written for Swedish television. He lives in Sweden.

Ebba Segerberg is a translator of Swedish literature with a focus on Swedish crime fiction. Her translations include several installments of the Wallander series by Henning Mankell and Let Me In by John Ajvide Lindqvist. She has worked in a variety of other genres and formats including biography, short stories, and screenplays. She holds a PhD in Swedish literature and film studies from the University of California at Berkeley, and currently lives in Saint Louis, Missouri.
Praise For…
---
"Dubbed the Stephen King of Sweden, Lindqvist lives up to the billing with a chilling tale of two teenage girls who team up as a terrifying singing duo bent on revenge against anyone who has ever crossed them." —New York Post on Little Star

"A future horror classic and a firm pronouncement that John Ajvide Lindqvist is a force to reckoned with. Brilliant. A true horror story." —MTV.com on Little Star

"As good a horror novel as I've read all year...Truly establishes Lindqvist as a horror heavyweight. Intermittently touching, disturbing, and horrifying." —BloodyDisgusting.com on Little Star

"Sweden's answer to Stephen King." —Daily Mirror (UK) on Harbor