You are here
Back to top
The Pilates Body: The Ultimate At-Home Guide to Strengthening, Lengthening and Toning Your Body- Without Machines (Paperback)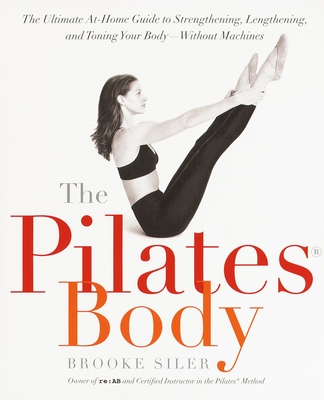 $18.95
Email or call for price.
Description
---
The Pilates® method may be today's hottest exercise, but it has been endorsed by physicians for almost a century. Originally developed by Joseph H. Pilates to help strengthen and condition muscles, Pilates is the ultimate mind-body exercise for anyone who wants to tone, streamline, and realign their body without the bulked-up results of more conventional workout methods.

Now, in The Pilates® Body, author Brooke Siler--one of the most sought-after personal trainers in the country and owner of New York's top studio for Pilates training, re:AB--provides a complete, easy-to follow program of Pilates exercises that can be done anywhere, anytime, and without machines.

With step-by-step instructions, Siler guides the reader through the complete circuit of mat exercises, each of which is clearly illustrated by photographs, line drawings, and unique visualization exercises. With Pilates you will not only streamline your figure--you will dramatically improve your posture, flexibility, and balance, and enhance your physical and emotional well-being. The Pilates Body shows you how.
About the Author
---
Brooke Siler is the co-owner of re:AB, the renowned studio for Pilates® training in New York City, where her clients include Amber Valletta, Shalom Harlow, and Liv Tyler. Hailed as the "trainer to the stars," she trained under Joseph Pilates' protégé, Romana Kryzanowska, and has been recognized by Vogue, Cosmopolitan, Harper's Bazaar, and the New York Observer as one of the country's leading fitness gurus. She lives in New York City.
Praise For…
---
"Brooke is extremely knowledgeable about using Pilates as a tool to increase muscle strength and improve life energy and vitality. I love Brooke!"
--Amber Valletta

"All trainers feel committed to their clients. However, few give the dedication of a coach. Brooke is a trainer who is a coach. She pushes me to realize my potential and believes in my ability more than I do."
--Trudi Tapscott, Model Editor, Vogue magazine

"In ten sessions you will feel the difference, in twenty you will see the difference, and in thirty you'll have a whole new body."
--Joseph H. Pilates