You are here
Back to top
Making Out in Korean: A Korean Language Phrase Book (Making Out Books) (Paperback)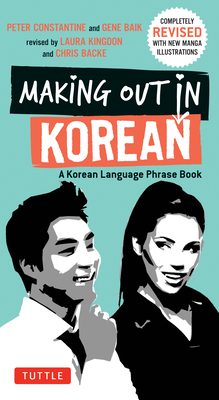 $7.95

Usually Ships in 1-5 Days
Description
---
Making Out in Korean is a fun, accessible and thorough Korean phrasebook and guide to the Korean language as it's spoken in real-life.
Nan neoga joa michigesseo Uri tto mannalkka?
--(I'm crazy about you Shall we meet again?) Answer this correctly in Korean, and you may be going on a hot date. Incorrectly, and you could be hurting someone's feelings or getting a
slap
Korean classes and textbooks tend to spend a lot of time rehearsing for the same fictitious scenarios, but chances are while in Korea you will spend a lot more time trying to make new friends or start new romances--something you may not be prepared for. If you are a student, businessman or tourist traveling to South Korea or North Korea and would like to have an authentic and meaningful experience, the key is being able to speak like a local. This friendly and easy-to-use Korean phrase book makes this possible.
Making out in Korean
has been carefully designed to act as a guide to modern colloquial Korean for use in everyday informal interactions--giving access to the sort of catchy Korean expressions that aren't covered in traditional language materials. As well as the Romanized forms (
romanji
), each expression is given in authentic Korean script (
hangul
), so that in the case of difficulties the book can be shown to a native Korean-speaker. In addition, easy-to-use phonetic spellings of all Korean words and phrases are given. For example "How are you?"--
annyeonghaseyo?
is also written as anh-nyawng-hah-seyo? This Korean phrasebook includes:
A guide to pronouncing Korean words correctly.
Explanations of basic Korean grammar, such as, word order, questions, and formal vs. informal tenses.
Complete Korean translations including Korean Script (hangul).
Useful and interesting notes on Korean language and culture.
Lots of colorful, fun and useful expressions not covered in other phrasebooks.
Titles in this unique series of bestselling phrase books include:
Making Out in Chinese, Making Out in Indonesian, Making Out in Thai, Making Out in Korean, Making Out in Hindi, Making Out in Japanese, Making Out in Vietnamese, Making out in Burmese, Making Out in Tagalog, Making Out in Hindi, Making Out in Arabic, Making Out in English, More Making Out in Korean,
and
More Making Out in Japanese
.
About the Author
---
Laura Kingdon is a graduate of Yonsei University's Korean Language Institute, so understands firsthand the complexities of learning Korean grammar. She is fluent in several languages and runs a translation firm. She has designed curricula and taught English as a Second Language to students of all ages, ranging from university students in Kazakhstan to elementary school children in Korea. After years of living in Seoul, she has recently moved to Thailand. Chris Backe blogs about travel and life at Chris in South Korea and Chris in Thailand. He has been published in several Korean magazines including Groove Magazine, 10 Magazine, Busan Haps, The East (based in England), and on visitseoul.net. He has been featured on several UK radio programs or subjects ranging from Korea to current technology. He has authored or contributed to various books on Korean language and culture, including Weird and Wonderful Korea.