You are here
Back to top
The Ecuador Reader: History, Culture, Politics (Latin America Readers) (Paperback)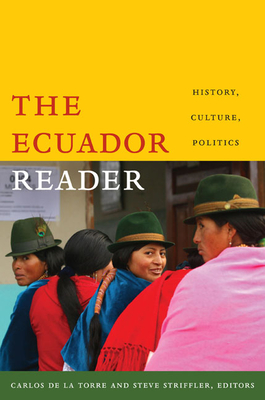 $29.95
Email or call for price.
Description
---
Encompassing Amazonian rainforests, Andean peaks, coastal lowlands, and the Gal pagos Islands, Ecuador's geography is notably diverse. So too are its history, culture, and politics, all of which are examined from many perspectives in
The Ecuador Reader
. Spanning the years before the arrival of the Spanish in the early 1500s to the present, this rich anthology addresses colonialism, independence, the nation's integration into the world economy, and its tumultuous twentieth century. Interspersed among forty-eight written selections are more than three dozen images.
The voices and creations of Ecuadorian politicians, writers, artists, scholars, activists, and journalists fill the Reader, from Jos Mar a Velasco Ibarra, the nation's ultimate populist and five-time president, to Pancho Jaime, a political satirist; from Julio Jaramillo, a popular twentieth-century singer, to anonymous indigenous women artists who produced ceramics in the 1500s; and from the poems of Afro-Ecuadorians, to the fiction of the vanguardist Pablo Palacio, to a recipe for traditional Quite o-style shrimp. The Reader includes an interview with Nina Pacari, the first indigenous woman elected to Ecuador's national assembly, and a reflection on how to balance tourism with the protection of the Gal pagos Islands' magnificent ecosystem. Complementing selections by Ecuadorians, many never published in English, are samples of some of the best writing on Ecuador by outsiders, including an account of how an indigenous group with non-Inca origins came to see themselves as definitively Incan, an exploration of the fascination with the Andes from the 1700s to the present, chronicles of the less-than-exemplary behavior of U.S. corporations in Ecuador, an examination of Ecuadorians' overseas migration, and a look at the controversy surrounding the selection of the first black Miss Ecuador.