You are here
Back to top
Philly's Fit-Step Walking Diet: Lose 15 Lbs., Shape Up & Look Younger in 21 Days (Paperback)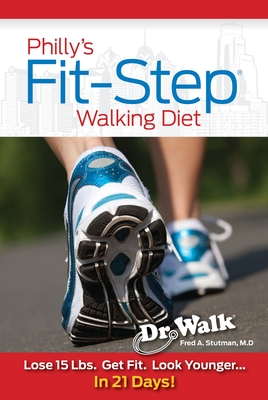 $19.95
Email or call for price.
Description
---
Philly's Fit-Step Walking Diet is a unique weight-loss and fitness book. It was originally developed for Dr.Stutman's Philadelphia patients who were tired of fad diets and strenous exercises.He developed an easy-to-follow low-fat, high fiber, moderate protein diet, combined with an aerobic walking plan and strength-training exercises.Ths combination produces a double-blast of calorie burning for added weight-loss, cardiovascular fitness and body-shaping.This plan also helps to prevent heart attacks, strokes and hypertension. You will slim down, shape up and look younger on The Philly Fit-Step Walking Diet, and you'll even be able to eat a Philly Cheesesteak in the process.You can even lose up to 12 pounds and 3 inches in only 21 days.
About the Author
---
Fred A. Stutman, M.D. has done extensive research in the fields of exercise physiology, diet and exercise at the U.S.Naval Air development and in his private medical practice. He is the author of 12 books and numerous medical articles on diet, nutrition, and exercise, including The Doctor's Walking Book, for which he became known as: Dr.Walk." He has appeared on national radio and TV, including The Today Show and Good Morning America. He currently practices medicine as part of the Temple University Health System in Philadelphia.