You are here
Back to top
Mastering the National Admissions Test for Law (Hardcover)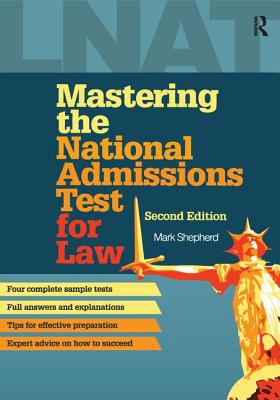 Description
---
This fully revised and updated second edition provides an indispensible guide to all those preparing to sit the National Admissions Test for Law (LNAT).
Mastering the LNAT provides comprehensive guidance on both the multiple choice section and essay section of the test, as well as analysis of previous test results, details of the procedure for sitting the test and how the results are calculated and used. The book also includes five practice tests for students to work through, along with complete sets of answers and explanations and a range of sample essays and essay plans.
Presented in an accessible and easy to understand format, Shepherd offers a practical, hands-on insight into what universities are looking for from candidates. It includes; an introduction to the test and the part it plays in the overall application process; guidance on preparing for the LNAT and an explanation of the ways that you can improve your approach to the test; a guide to approaching MCQs (including an analysis of different types of possible questions and techniques for verifying answers); a guide to approaching essay questions; five sample test papers; answers and explanations for all MCQs; sample essays and essay plans.
Mastering the LNAT is essential reading for those students wanting to give themselves the best possible chance of securing a place at the University of their Choice.
About the Author
---
Mark Shepherd is a law graduate of the University of Oxford and is now a Senior Associate with international law firm Olswang. He has tutored students in various aspects of the law and has also given numerous talks and seminars on preparing for the LNAT.