You are here
Back to top
Pilates (Paperback)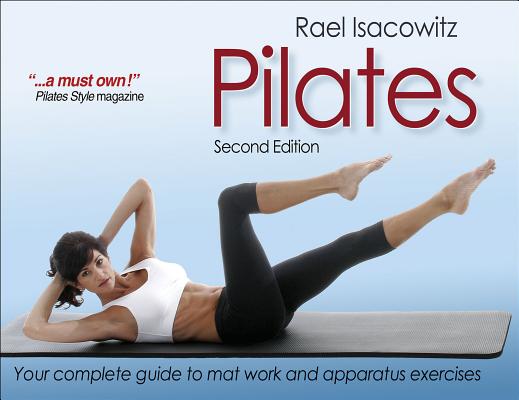 Description
---
The most acclaimed, comprehensive guide on Pilates is now updated, expanded, and better than ever!
In this second edition, world-renowned Pilates expert Rael Isacowitz shows you the same repertoire that he has used to train multiple Olympians as well as an elite group of professional instructors who work with celebrities and athletes around the world.
Starting with the foundation for all the exercises, Pilates presents an in-depth treatment of mat work, including photos, imagery cues, and detailed instruction on breathing to help you perform the movements correctly. The mat work in this edition is organized according to a mat-specific version of the comprehensive BASI Block System used for the apparatus work. This arrangement enhances understanding of the expansive repertoire and provides the tools for creating personalized mat routines. A unique set of challenging exercise sequences is offered to facilitate performing the movements in one continuous, flowing motion.
After the mat work, where most books stop entirely, Pilates goes on to apply the same depth of instruction and photos to the full range of Pilates apparatus:
• Reformer
• Cadillac
• Wunda chair
• Step and ladder barrels
• Ped-a-pul
• Arm chair
• Magic circle
The complete repertoire includes a purposeful grouping of exercises into blocks that work all regions of the body and progress from the fundamental level through the intermediate and advanced levels to challenge you at all stages of Pilates development.
With more than 200 exercises and more than 50 variations, Pilates is the most comprehensive guide available on the method. As a contemporary approach to the work of Joseph Pilates, this is the one book you need in order to improve your balance, concentration, coordination, posture, muscle tone, core strength, and flexibility—in short, your well-being.
About the Author
---
Rael Isacowitz is a world-renowned practitioner and teacher of Pilates. With over three decades of Pilates practice and achievement, he is a prominent lecturer and teacher at symposia, universities, colleges, and studios around the globe. He received his bachelor of education degree and teaching credentials from Israel's prestigious Wingate Institute, where he subsequently joined the teaching faculty. He later earned a master of arts degree in dance from the University of Surrey, England.
Rael's early Pilates teachers included Alan Herdman and thereafter several of the first-generation Pilates teachers (known as the Elders), including Kathy Grant, Ron Fletcher, Romana Kryzanowska, Eve Gentry, and Lolita San Miguel.
Rael has mastered all levels of the Pilates repertoire and is noted in the industry for his unique athleticism; synthesis of body, mind, and spirit; and passion for teaching. In 1989 he founded Body Arts and Science International (BASI) Pilates, which has developed into one of the foremost Pilates education organizations in the world. BASI Pilates is currently taught in more than 100 locations spanning 30 countries.
Rael's first edition of Pilates (Human Kinetics, 2006) and his Pilates Anatomy (coauthored with Karen Clippinger, Human Kinetics, 2011) have received worldwide acclaim and been translated into multiple languages. He has published a series of movement analysis workbooks on all the Pilates apparatus, produced DVDs, designed the revolutionary Avalon System line of contemporary equipment, and created the groundbreaking Pilates Interactive software. He is a regular contributor to several industry publications. Creativity, passion, and energy suffuse his work. Teaching Pilates is, for Rael, the ultimate gift.
Praise For…
---
"The two Pilates books I refer to most often are Joseph Pilates' Return to Life Through Contrology and Rael Isacowitz's Pilates. They are must-have reference works for Pilates teachers, students, and clients. I have known Rael for many years. In this book you will meet Rael the man and teacher, multitalented and knowledgeable. He presents his approach to Pilates with simplicity and love, and he inspires you to do your best. Bravo, Rael!"
Lolita San Miguel, PMA, CPT-- First-Generation Pilates Teacher, certified by Joseph Pilates and Carola Trier
"Pilates, Second Edition, brought to you by world-class master Rael Isacowitz, provides all of the necessary tools and then some for you to reap the wide-ranging benefits that the method has to offer. Whether you're new to Pilates or a seasoned practitioner, you will read this book—cover to cover—over and over again."
Amanda Altman-- Managing Editor, Pilates Style magazine
"Rael Isacowitz is one of the great Pilates masters of our time. I recommend this book to anyone looking for detailed insight into Pilates theory and practice. It is an extraordinary resource for all dedicated Pilates practitioners.
Marguerite Ogle, MS-- Pilates Educator, Writer, Lifestyle Coach
"Rael draws from his vast experience to provide a clear, comprehensive, creative, and inspiring presentation of Pilates repertoire for the mat and apparatus. This new edition enriches an already invaluable Pilates resource by adding variations that promote accessibility for the Pilates novice and expand the degree of challenge for the experienced Pilates enthusiast or teacher."
Karen Clippinger, MSPE-- Professor, California State University at Long Beach; Faculty member, BASI Pilates