You are here
Back to top
Daily Life in Turkmenbashy's Golden Age: A Methodologically Unsound Study of Interactions Between the Tribal Peoples of America and Turkmenistan (Paperback)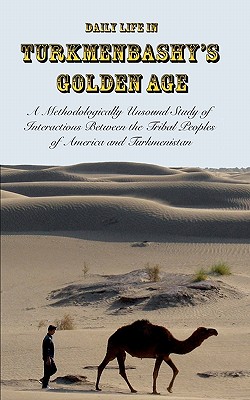 $15.00
Email or call for price.
Description
---
In 2004, Sam Tranum moved to Turkmenistan, an isolated, totalitarian petrostate bordering Iran and Afghanistan, to serve as a Peace Corps Volunteer. That same year, the Economist magazine predicted his new home would be the worst place in the world to live, despite the fact that its leader, known as Turkmenbashy, insisted that his country was experiencing a Golden Age. This is the story of Tranum's nearly two years in Turkmenistan, dodging secret police, exploring ancient Silk Road cities, covertly teaching classes on democracy and human rights, and learning to appreciate fermented camel's milk.
About the Author
---
Sam Tranum served as a Peace Corps Volunteer in Turkmenistan from 2004 to 2006, and taught journalism at the American University of Central Asia in Kyrgyzstan from 2007 to 2009. He has worked as a staff reporter at the Charleston Daily Mail in West Virginia and the South Florida Sun-Sentinel in Florida, and freelanced for publications including the St. Petersburg Times, the Christian Science Monitor, and Literarytraveler.com. He earned a B.A. in social and global studies from Antioch College, and an M.A. in international relations from the University of Chicago. He's currently reporting on energy and politics in Washington, DC.