You are here
Back to top
The Lost Art of Running: A Journey to Rediscover the Forgotten Essence of Human Movement (Paperback)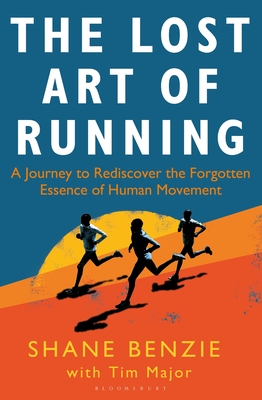 Description
---
One man's journey across six continents to rediscover the lost art of running.

The Lost Art of Running is an opportunity to join running technique analyst coach and movement guru, Shane Benzie, on his incredible journey of discovery across six continents as he trains with and analyzes the running style of some of the most naturally gifted athletes on the planet. Benzie believes that in analyzing these highly efficient yet increasingly forgotten running styles we can all access our body's natural elastic energy and unlock our true running potential.

Part narrative, part practical, this running guide will take you to the training grounds of world record holding marathon runners in Kenya; racing across the brutal cold of the Arctic Circle and the mountains of Europe, through the expansive sweltering sands of the Sahara and the hostility of a winter traverse of the Pennine Way, to witness first-hand the incredible natural movement of runners in these environments.

Along the way, you will learn how to incorporate natural movement techniques into your own running and you will hear from some of the athletes that Shane has worked with and coached over the years to understand how they have successfully adopted these techniques to improve their own performances, including two times Marathon des Sables winner, Elisabet Barnes, Team GB 24 hour athletes, Robbie Britton and Dan Lawson, mountain runners, Nicky Spinks, Damian Hall and Tom Evans and three times winner of The Spine race, Pavel Paloncy.

Whether you're a veteran runner or just tackling your first few miles, this ground-breaking book will help you discover the lost art of running.
About the Author
---
Shane Benzie is a running technique coach and movement specialist. He has traveled extensively to work with, live with and study a wide range of athletes in different--sometimes extreme--environments.

Shane is at the forefront of sport movement research which has seen him drastically re-evaluate how and why we run and led to exciting findings on the role of the fascia system in creating natural elasticity in our species. His coaching is not therefore based on a course he has been on or textbooks that he has read nor is it skewed by the unnatural comfort of a safe and controlled environment. Instead, his work has been conducted in the field with over 2,500 runners. He has collaborated with an impressive list of successful athletes including the Team GB 24 Hour running team.
Praise For…
---
"Shane's approach to running movement really works. Shane helped me prepare for my fourth Marathon des Sables. I am convinced that the insight from these sessions was instrumental in me being able to run as well as I did and secure my second win in a highly competitive race." —Elisabet Barnes (Ultra Endurance Runner)

"Shane is the Indiana Jones of the running world" —Damian Hall, ultra marathon runner & journalist

"A fascinating book" —Adharanand Finn, bestselling author of Running With the Kenyans, The Rise of the Ultra Runners and The Way of the Runner

"After working with Shane, I noticed big improvements in my performance" —Tom Evans, elite ultra runner

"Shane has brought a new eye to the GB diving team's training and his insights have been invaluable" —Tom Daley, Olympic diver

"Heads up – here's how to run like a pro." —The Times

"Explains in layman's terms how to run efficiently by utilising elasticity: you can't but help go out the door for your next run and try to put it all into practice" - Nicky Spinks, endurance runner

"Excellent" - Trail Running magazine

"Even if you are the smoothest looking runner on the planet, there will be something in these pages for you... a great read" - Trail Running