You are here
Back to top
Pilates (Paperback)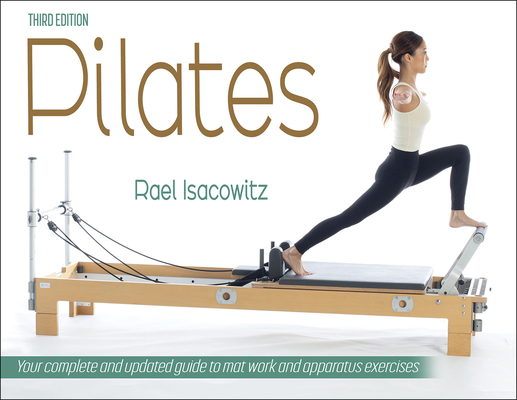 $34.95

Usually Ships in 1-5 Days
Description
---
The most acclaimed, comprehensive guide for Pilates is back with all-new photos and more variations, modifications, and progressions than ever before.
In
Pilates, Third Edition,
world-renowned Pilates expert Rael Isacowitz draws on over four decades of experience to offer you a path to total health and well-being through the Pilates method. Whether you are a beginner, a teacher using Pilates in a therapeutic setting, or a veteran instructor working with athletes, this resource will help you tap into the potential of the mind–body connection to gain the elusive edge in training.
Pilates
starts with the foundation for all the exercises by presenting an in-depth treatment of mat work, including photos, imagery, and detailed instruction on breathing to help you perform the movements correctly. After the mat work,
Pilates
goes on to apply the same depth of instruction and photos to the full range of Pilates apparatus:
Reformer
Cadillac
Wunda chair
Ladder barrel, also known as the high barrel
Step barrel, also known as the spine corrector
Ped-a-pul
Arm chair (F2 chair)
Magic circle
There are more than 200 exercises, categorized by body region. The exercises include difficulty ratings, recommended resistance ranges, and explanations of not only how to perform the movements but also how practitioners will benefit from them. New variations, modifications, and progressions for many of those exercises offer additional options for tailoring the exercises based on ability, skill, or preference.
The book includes a purposeful grouping of exercises into programs that work all regions of the body and progress from the fundamental level through the intermediate and advanced levels to challenge you at all stages of Pilates practice.
Pilates is a holistic approach to well-being that offers a bridge between mind and body, between everyday life and optimal performance, and between rehabilitation and healthy movement. When used to its full potential, it can enhance every aspect of life. So whether you are young or old, are able-bodied or live with restricted mobility,
Pilates
can improve your balance, concentration, coordination, posture, muscle tone, core strength, flexibility, and overall well-being.
About the Author
---
Rael Isacowitz received his bachelor of education degree from the Wingate Institute in Israel, where he was later invited to join the faculty, and his master of arts degree in dance from the University of Surrey in England. He worked extensively as a professional dancer and dance educator in Israel, England, Australia, and the United States. Rael was introduced to Pilates in the late 1970s and has since been practicing and teaching Pilates throughout the world.

In 1989, Rael founded BASI (Body Arts and Science International) Pilates, a comprehensive Pilates educational organization spanning the globe. Headquartered in Newport Beach, California, BASI Pilates is represented in more than 50 countries. Over 50,000 students have experienced the BASI teacher training programs, Learn From the Leaders conferences, and other advanced workshops and continuing education courses.

Rael spearheaded the development of BASI Interactive, a one-of-a-kind elearning platform, and he designed the original concepts for BASI Systems Pilates equipment. Rael has written two bestselling books that have been translated into multiple languages: Pilates (Human Kinetics) and Pilates Anatomy (Human Kinetics), the latter of which was coauthored by Karen Clippinger. He has published a series of comprehensive workbooks that serve as a road map for professionals. With over 1,000 pages of content, these workbooks (which are used in the BASI Legacy Program) cover everything from the basics to the most advanced repertoire. In the early 2000s, Rael was featured in a series of DVDs that remain universally popular today. He was a founding board member of Pilates Method Alliance. He has written for, and been featured in, professional publications such as Pilates Style magazine, for which he was the Q&A expert for over seven years.

Rael is honored to be part of the great legacy of Pilates teachers and mentors. He has studied from, and taught with, luminaries of the Pilates world, including several first-generation Pilates teachers. Among these Pilates elders was Kathy Grant, who Rael regards as his greatest teacher and mentor.

Rael's myriad contributions to Pilates as a teacher, author, and innovator are recognized and respected internationally. Passion, compassion, and excellence guide Rael in all he does. Creativity and commitment permeate his work and his daily practice. Rael brings to Pilates a unique athleticism—a synthesis of body, mind, and spirit.
Praise For…
---
"Rael draws from his vast experience and expertise to provide a clear, comprehensive, creative, and inspiring presentation of the Pilates repertoire for the mat and apparatus. His keen descriptions of the technique and the benefits allow readers to experience the depth of the Pilates method as well as make appropriate exercise selections and modifications for both themselves and clients."
—Karen Clippinger, MSPE, Professor Emerita of California State University at Long Beach and Lecturer for BASI Pilates

"The two Pilates books I refer to most often are Joseph Pilates' Return to Life Through Contrology and Rael Isacowitz's Pilates. They are must-have reference works for Pilates teachers, students, and clients. I have known Rael for many years. In this book you will meet Rael, the multitalented and knowledgeable man and teacher. He presents his approach to Pilates with simplicity and love, and he inspires you to do your best. Bravo, Rael!"
—Lolita San Miguel, PMA, CPT, First-Generation Pilates Teacher Certified by Joseph Pilates and Carola Trier