You are here
Back to top
Amphibians of Costa Rica: A Field Guide (Zona Tropical Publications) (Paperback)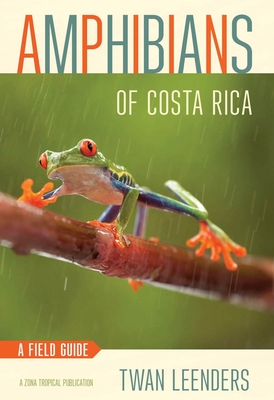 $35.00

Usually Ships in 1-5 Days
Description
---
Amphibians of Costa Rica is the first in-depth field guide to all 206 species of amphibians known to occur in Costa Rica or within walking distance of its borders. A diminutive nation with abundant natural wealth, the country is host to 146 species of frogs and toads. Frogs of gemlike beauty and dizzying variety abound: some species can fit on the end of a human finger; others would take two hands to hold. In the rainforests, you can find frogs capable of gliding from high in the treetops to the forest floor, some that carry their eggs or their tadpoles around on their back, and others that secrete glue-like substances from their skin that are capable of sticking shut the mouth of attacking snakes.
Costa Rica is also home to fifty-three species of lungless salamanders, whose unique adaptations and abilities have allowed them to colonize habitats inaccessible to other amphibians. In addition to the spectacularly diverse salamanders, frogs, and toads found in the country, this guide includes the caecilians--bizarre and highly specialized creatures that somewhat resemble giant worms.
Author, photographer, and conservation biologist Twan Leenders has been studying the herpetofauna of Central America for more than twenty years. Leenders and his team of researchers have traipsed the rainforests, dry forests, and swamps of Costa Rica--toting portable photo studios--to put together the richest collection of photographs of Costa Rican herpetofauna known to exist. In addition to hundreds of photographs, range maps, morphological illustrations, and precise descriptions of key field characteristics,
Amphibians of Costa Rica
offers a wealth of natural history information, describing prey and predators, breeding strategies, habitat, and conservation status.
About the Author
---
Twan Leenders is President of the Roger Tory Peterson Institute of Natural History in Jamestown, New York. He is coauthor of The Wildlife of Costa Rica: A Field Guide, also from Cornell, and author of A Guide to Amphibians and Reptiles of Costa Rica.