You are here
Back to top
Grandmother's Pigeon (Hardcover)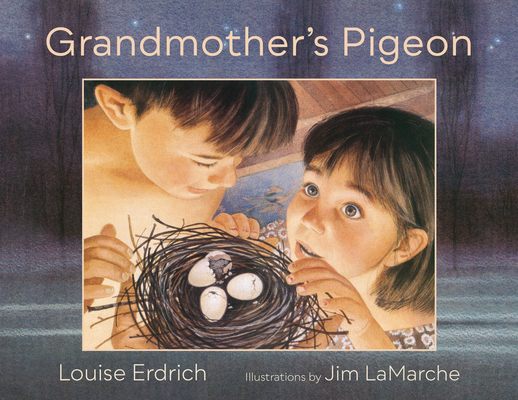 $17.95

Usually Ships in 1-5 Days
Description
---
A grandmother's sudden departure leaves her family with an even more puzzling, and wondrous, surprise in this enchanting story from the National Book Award–winning author—at last back in print

Grandmother was a mysterious woman. She could heal with a touch (or with a cup of very bitter tea) or scare off a vicious dog with a look. But when she hitches a ride to Greenland on a passing porpoise, her family is still surprised—and then concerned. The mystery deepens when, among Grandmother's collection of birds' nests, the family discovers a clutch of eggs hatching. Out pop three passenger pigeons—birds of a species long extinct, supposedly.
Through the words of a curious grandchild, and Jim LaMarche's evocative artwork, Grandmother's legacy unfolds in these pages in all its peculiarity and charm. Mixing whimsy and gravity with a little science and history, the tale of the family's loss, and marvelous find, summons a world as intriguing as it is perfectly clear—a world animated by Louise Erdrich's storytelling magic, inviting readers young and old to follow Grandmother, and to wonder. 
About the Author
---
Louise Erdrich is the author of fifteen novels as well as volumes of poetry, short stories, a memoir of early motherhood, and children's books, including The Range Eternal (Minnesota, 2020). Her novel The Round House won the National Book Award for Fiction. The Plague of Doves was a finalist for the Pulitzer Prize, and she has twice won the National Book Critics Circle Award, for her debut novel Love Medicine and for LaRose. She operates Birchbark Books, an independent bookstore in Minneapolis.
Jim LaMarche has illustrated The Rainbabies by Laura Kraus Melmed, Albert by Donna Jo Napoli (a New York Times Best Illustrated Book), and Up and The Raft, which he also wrote. Most recently he illustrated The Carpenter's Gift by David Rubel and Puma Dreams by Tony Johnston. He lives in Santa Cruz, California.
Praise For…
---
"Impeccably paired, text and art gracefully build to a conclusion that both reassures and startles. Magical from beginning to end."—Publishers Weekly, starred review
"Tips the delicate balance between the fanciful and more realistic aspects of storytelling."—Kirkus Reviews
"This is a book that adults will be glad to share over and over, which is good because children are going to be asking for it many times."—Ely Winter Times