You are here
Back to top
Bulldozer's Christmas Dig (The Bulldozer Books) (Hardcover)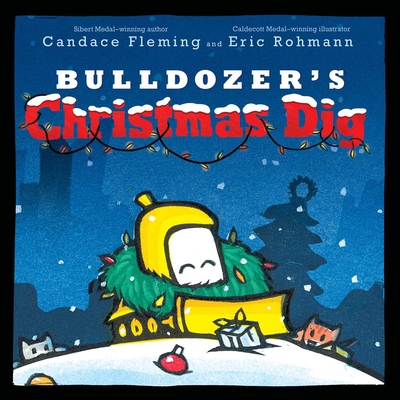 $17.99

Usually Ships in 1-5 Days
Description
---
A very little bulldozer digs up a most unexpected Christmas gift for his friends at the construction site in this holly jolly third book in the Bulldozer series from award-winning author Candace Fleming and Caldecott Medalist Eric Rohmann.

It's Christmas Eve, and Dump Truck is carrying…carrying…carrying garland.
Digger Truck is stringing…stringing…stringing lights.
Crane Truck is lifting…lifting…lifting wreaths.
And Bulldozer is worrying…worrying…worrying.

He doesn't have any presents for his friends—not one! And time is running out. Does he need a Christmas miracle, or just a little ingenuity, and some digging, digging, digging?
About the Author
---
Candace Fleming is the acclaimed author of numerous books for children, including the Bulldozer books; Ben Franklin's Almanac, an ALA Notable Book and an ALA Best Book for Young Adults, as well as Muncha! Muncha! Muncha!, and Sibert Medal honorees The Honeybee, and The Giant Squid. She lives in a suburb of Chicago.

Eric Rohmann is the Caldecott Medal–winning illustrator of My Friend Rabbit and received a Caldecott Honor for Time Flies. He has both written and illustrated numerous books for children, including Bulldozer's Big Day, Honeybee, and Bulldozer's Christmas Dig, all written by Candace Fleming. He lives in Oak Park, Illinois. Find out more at EricRohmann.com.
Praise For…
---
The little yellow Bulldozer with his entourage of animal friends is a likable character whose plight children will relate to and whose noncommercial solution is a model for creative youngsters to take as inspiration. Best for wrapping a message of giving within a truck-loving package full of sound effects.

Extremely simple and rather sweet.
— Kirkus Reviews

It's Christmas Eve, and Bulldozer is worried: "He didn't have any presents for his friends. Not one." He sees an old tire sticking out of the snow: "I wonder what other treasures are under there?" With his playful cat friends from Bulldozer Helps Out (rev. 7/17) as company, he digs and digs, amassing an impressive pile of salvage. He's discouraged at first, then inspired: "Through the swirling, whirling, / twinkling snowflakes, he thought he saw— / Was it? / Could it be?" Poking, pushing, nudging his creation into shape, Bulldozer brings his vision to life. A string of lights and a large gearwheel at the top complete the surprise. Fleming's warmhearted story and Rohmann's bold relief block print illustrations are both full of treasures.
— Horn Book Magazine

PreS-Gr 2–It's Christmas Eve, and all Bulldozer wants is to find some treasures to share with his friends […] However, all he finds was junk. The more he scrapes, the more junk he uncovers—or so he thinks. Much to his surprise, Bulldozer discovers a real treasure that leaves his friends awestruck. Fleming and Rohmann's newest installment of the "Bulldozer" series offers young readers a subtle message about finding the beauty in the unexpected and the wonders of friendship. Bold black outlines and primary colors make this story perfect for reading aloud. Maegen Rose, Rye Country Day Sch., NY
— School Library Journal