You are here
Back to top
The Wine Bible (Paperback)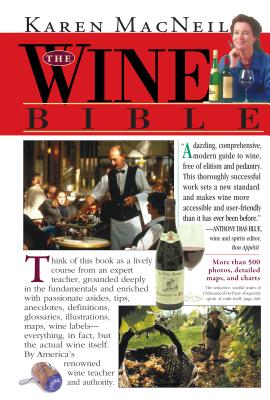 Description
---
THE MOST COMPLETE WINE BOOK EVER. A must for anyone who loves wine, whether they are a pro or an amateur. Thorough, authoritative, and entertaining. (Robert Mondavi, founder and chairman emeritus of the Robert Mondavi Family of Wines)
"The most informative and entertaining book I've ever seen on the subject." (Danny Meyer, co-author of The Union Square Cafe Cookbook)
The essentials: The romance and intrigue of Burgundy of sauvignon blanc and the surprising elegance of Spain's top Riojas. Italy, one of wine's most enchanting and ancient homelands. What makes a great wine great? The reason behind Champagne's bubbles. The precise and food-friendly wines of Germany. California, wine's Camelot. The lip-smackingly good wines of Australia. The complexities of Port revealed. How a vineyard profoundly affects a wine's character.
Plus, matching wine with food - and mood. The secrets of professional wine tasters and how to expand your wine-tasting vocabulary. And everything else you need to know to buy, store, serve, and enjoy the world's most captivating beverage.
The shimmering elegance of Veuve Clicquot, affordable luxury in a glass, page 185.
Ravishing, elegant, and rich, Petrus in Ingrid Bergman in red satin, page 156.
Some wines are like people... they get better as they get older, pg. 64.
Sherry, the world's most misunderstood and underappreciated wine, page 437.
About the Author
---
One of the foremost wine experts in the United States, Karen MacNeil is the only American to have won every major wine award given in the English Language. In a full-page profile on her, TIME Magazine called Karen, "America's Missionary of the Vine." Karen is the author of the award-winning book, THE WINE BIBLE, the single best-selling wine book in the United States, with more than one million copies sold. She is the creator and editor of WineSpeed, the top digital newsletter in wine in the United States. Known for her passion and unique style, she conducts seminars and presentations for corporate clients worldwide. The former wine correspondent for the Today Show on NBC, Karen was also the host of the PBS series Wine, Food and Friends with Karen MacNeil, for which she won an Emmy. And finally, Karen is the creator and Chairman Emeritus of the Rudd Center for Professional Wine Studies at the Culinary Institute of America, which has been called the "Harvard" of wine education. More information is available at www.karenmacneil.com.

 
Praise For…
---
"A dazzling, comprehensive, modern guide to wine, free of elitism and pedantry. This thoroughly successful work sets a new standard and makes wine more accessible and user-friendly than it has ever been before."
—Anthony Dias Blue, wine and spirits editor, Bon Appétit