You are here
Back to top
Kyoto: Seven Paths to The Heart of The City (Paperback)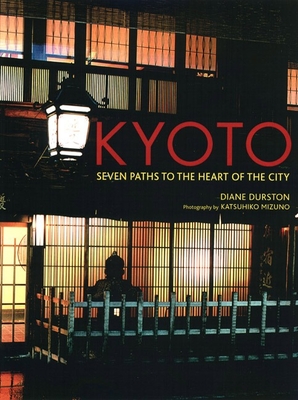 $24.95
Email or call for price.
Description
---
What better way to see Kyoto than at dawn, when the back streets and alleys of this 1,200-year-old city are still under the spell of the past? Old folks fuss about with their bonsai and laundry poles, pausing to chat on their way to the neighborhood shrine with flowers and morning prayers. Knock-kneed white egrets stalk the stream beds for breakfast, and the giant bronze temple bells awaken the former capital of Japan every morning as they have done for centuries.
Through wars, fires, famines, tyrants, and now rapid modernization, the old neighborhoods of Kyoto are the places where the customs and traditions of this fascinating city, with its confusing blend of old and new, have managed to survive.
American writer and former Kyoto resident Diane Durston introduces seven must-see precincts of this ancient capital city, including four Historic Preservation Districts. Among them are the world-famous geisha quarter, the kimono textile neighborhoods, the sake-brewing area of Fushimi, and the tea-growing region of Uji. Durston weaves together local lore and historical sites to create a panoply of provocative walking tours that take the reader back in time to the elegance of earlier days.
Accompanying each section is a full-color map and the fine photography of Katsuhiko Mizuno, a Kyoto native and one of the city's most famous photographers. Sections highlighting Kyoto crafts, cuisine, festivals, and tourist essentials round out this attractive volume, making it the perfect introduction—and guide—to one of the world's most evocative cities.
FEATURES:
Photographs by one of Kyoto's most renowned photographers
Locations of the most important Historic Preservations Districts
Detailed maps and suggested routes
Scenic and little-known walking paths
Completely revised and updated information
About the Author
---
DIANE DURSTON is a writer, lecturer, and consultant on Japan and Asian cultures. She has written three books on Kyoto, where she lived for eighteen years, including Old Kyoto: A Guide to Traditional Shops, Restaurants and Inns, now in its fifteenth printing and considered by many a travel classic. Durston has worked extensively as a writer, consultant, and event coordinator on Japanese and Chinese culture for museums, universities, and corporations for the past fifteen years. In 1995, Durston moved to Portland, Oregon, where she is currently the Special Projects Director of the Portland Art Museum.

KATSUHIKO MIZUNO is a professional photographer based in Kyoto. After graduating from Doshisha University and the Tokyo College of Photography, he forged a career shooting traditional scenes in and around Kyoto. He has over a hundred books to his name in English and Japanese, including Landscapes for Small Spaces: Japanese Courtyard Gardens. Mizuno lives in a renovated machiya house in Kyoto, and runs the Machiya Photo Museum.
Praise For…
---
"Everyone that loves Kyoto knows that Diane Curston is its modern poet laureate." —Pico Iyer



"Diane Durston's books are classics and have not been superseded by more recent publications." —The New York Times



"... an eloquent look at seven neighborhoods where everyday life in Japan continues despite the crush of modernity." —Seattle Post-Intelligencer



"Explore the hidden beauty of historic neighborhoods with seven walking tours that transport visitors back to more elegant times." —Endless Vacation