You are here
Back to top
Thai Food: [A Cookbook] (Hardcover)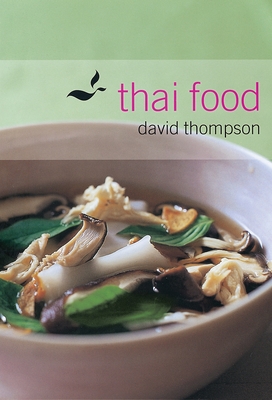 $45.00
Email or call for price.
Description
---
Renowned chef David Thompson first went to Thailand by mistake: a holiday plan had to be changed at the last minute, and he ended up in Bangkok, where he was seduced by the people, culture, and cuisine. Since that fateful trip some 20 years ago, Thailand has become David's second home. Working alongside cooks who perfected their craft in the Thai royal palaces, he began to document the traditional recipes and culinary techniques that have been handed down from generation to generation.

The result is THAI FOOD, the most comprehensive account of this ancient and exotic cuisine ever published in English. David writes about Thailand and its food with an easy erudition, encouraging readers to cook and experiment, while simultaneously fostering a respect for the food and its stewardship through the ages. Although all the classic, well-loved recipes are here, this magnum opus features hundreds of lesser-known but equally authentic and delicious Thai dishes that will inspire cooks to go beyond green curry chicken and Thai fish cakes. David's passion and conviction are infectious; complemented by Earl Carter's superb photography, THAI FOOD captures all aspects of the dynamic Thai culture and cuisine.

• Ten years in the making, this groundbreaking work is one of the cookbook publishing events of the decade.

• The author's London restaurant, nahm, received a Michelin star in 2002, making it the first Thai restaurant to receive such an honor.

• Photographed at David's restaurants in Sydney and London, and on location in Thailand, Earl Carter's superb images capture both the essence of Thai food and its rich cultural milieu.

  Awards2003 James Beard Award Winner

2003 IACP Award Winner
Reviews
"Stands out, dauntingly massive, brilliantly magisterial, and, at the same time, bustling with charm, observations, life."
—Saveur
 "[S]et a new standard for Asian cookbooks."—Saveur (Top 100 Home Cook Edition)
About the Author
---
DAVID THOMPSON is one of Australia's foremost chefs, restaurateurs, and cooking writers. He is also an eloquent ambassador for Thai food and culture. His Sydney restaurants, the acclaimed Darley Street Thai and the perennially popular Sailors Thai, have increased the awareness and appreciation of authentic Thai cooking. In July 2001, he opened nahm in London's Halkin Hotel. Seven months later, nahm was awarded a Michelin star. Currently David Thompson is consulting with the prestigious Suan Dusit college in Bangkok on the preservation of Thai culinary heritage. He divides his time between London and Bangkok.