You are here
Back to top
Resistance Band Workbook: Illustrated Step-by-Step Guide to Stretching, Strengthening and Rehabilitative Techniques (Paperback)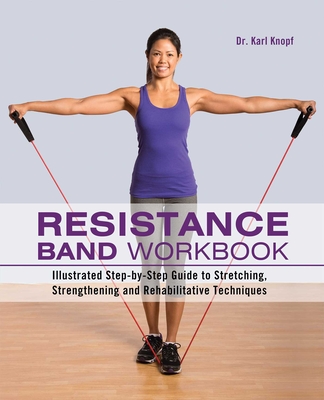 $14.95

Usually Ships in 1-5 Days
Description
---
Learn how to get fit while preventing injury using versatile resistance bands to build muscle, increase range of motion and balance with targeted, step-by-step workouts.

First used in physical therapy to introduce low-intensity strength training for rehabilitating patients, today bands come in all levels of resistance and are perfect for targeting and working every major muscle group. Using this simple device, you can:

• Increase Strength
• Improve Balance
• Reduce Lower Back Pain
• Rehabilitate Injuries

Resistance Band Workbook offers more than 70 safe, effective exercises paired with clear captions and step- by-step photos that can be done practically anywhere, anytime. In addition, special programs will enhance your daily life, whether you're looking to revamp your physique, elevate your sports performance or simply improve functional fitness.
About the Author
---
Dr. Karl Knopf has been involved in the health and fitness of older adults and the disabled for more than forty years. During this time he has worked in almost every aspect of the industry, from personal training and therapy to consultation.

While at Foothill College, Karl was the coordinator of the Adaptive Fitness Technician Program and Lifelong Learning Institute. He taught disabled students and undergraduates about corrective exercise. In addition to teaching, Karl developed the "Fitness Educators of Older Adults Association" to guide trainers of older adults. Currently Karl is a director at the International Sports Science Association and is on the advisory board of PBS's Sit and Be Fit show.

In his spare time he has spoken at conferences, authored many articles, and written numerous books on topics ranging from water workouts to fitness therapy. He was a frequent guest on both radio and print media on issues pertaining to senior fitness and the disabled.