You are here
Back to top
A Curious Collection of Dangerous Creatures: An Illustrated Encyclopedia (The Curious Collection of Creatures) (Hardcover)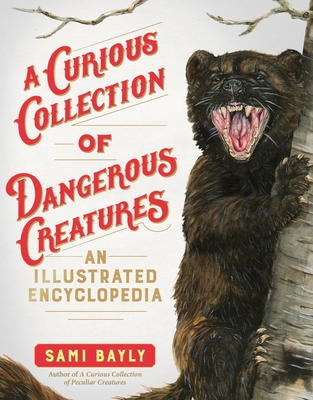 $18.95

Usually Ships in 1-5 Days
Description
---
From the frightening murder hornet to the fierce wolverine—a visual trove of the most dangerous animals on the planet, from the author of the beloved A Curious Collection of Peculiar Creatures

Sharks, snakes, and spiders get all the attention, but many of the most terrifying animals on the planet are probably ones you didn't know were so dangerous—like the otherworldly blue dragon, a tiny sea slug that can unleash a powerful sting, or the lethal mosaic crab, armed with a toxin 1,000 times deadlier than cyanide. And some creatures get rather creative when it comes to warding off predators—which is what makes them so amazing to read about. Take the adorable greater slow loris: This primate prepares to strike by first licking its venom-filled armpits!

Before you run and hide, award-winning author and illustrator Sami Bayly shows how, once you understand why these animals have adapted to be so dangerous, you'll learn to appreciate their scarier sides. They're only trying to survive! And with so many of these species threatened or endangered, they're counting on us to learn to love and protect them . . . from a safe distance!

Publisher's note: A Curious Collection of Dangerous Creatures was previously published in Australia under the title The Illustrated Encyclopaedia of Dangerous Animals.
About the Author
---
Sami Bayly holds a degree in natural history illustration from the University of Newcastle. She's drawn to the weird and wonderful—finding the beauty and importance in all living things, regardless of their appearance—and is eager to share her appreciation with others. She lives in Newcastle, Australia. Visit her at SamiBayly.com.
Praise For…
---
#1 Indie Bestseller
2021 Foreword INDIES Bronze Winner
Amazon Editors' Pick—Best Nonfiction for Kids
Kansas NEA Reading Circle Junior Level 2021
Shortlisted for the Children's Book Council of Australia 2021 Book of the Year

"Once kids (and adults!) get their hands on this wonderful book, they will likely read it over and over. This is a real winner."—San Francisco Book Review