You are here
Back to top
Pilates for Everyone: 50 Exercises for Every Type of Body (Paperback)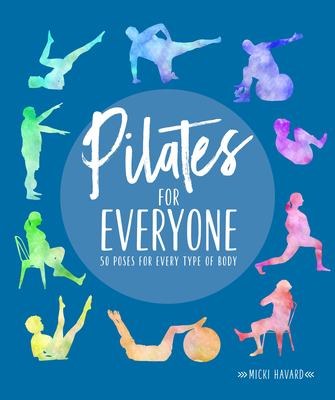 $19.99
Email or call for price.
Description
---
Pilates benefits every body--including yours!

Pilates is exercise for your mind, body, and spirit, but what if your body won't cooperate? How can you take advantage of all Pilates has to offer--strengthening your core, enhancing your flexibility, and even improving your posture--if you think you're too old or too big or too physically unable to perform the Hundred, the Shoulder Bridge, or the Double-Leg Stretch?

No matter what your age, size, or physical ability is, you can do every exercise in Pilates for Everyone. Each Pilates exercise shows the typical movements for gaining the physical and mental benefits from that exercise. Then each exercise offers at least three variations performed by people just like you to help you find the right modification that fits who you are. This way, no matter which version you perform, you're going to reach similar goals.

Pilates for Everyone includes these features:
  • 50 step-by-step exercises for specific body areas
  • Step-by-step modifications for every exercise
  • 10 routines that combine exercises from the book for maximum benefits
  • Expert advice from Micki Havard on how to get the most out of your practice


–––


"I'm a lead instructor trainer for Merrithew and Stott Pilates. I have spent more than two decades sharing the passion of Pilates and movements with my students and aspiring new instructors. Micki Havard has included in this book exercises and modifications suitable for everyone's needs. Micki knows how to deliver key principles so you can practice Pilates safely at home. I find Micki's book easy to follow and inspiring. Her guidance will make everyone strong!"
 
Thicha Srivisal
Pilates expert
www.breathepilates.com.sg
@thichapilates
 
–––
 
"It's about time this book was written by Micki. Her insights in fitness, Pilates, and well-being are to be revered. Micki's perseverance on this journey to inspire and empower others is to be embraced. With her work, she encourages others to achieve their fullest potential through her belief in them, the Pilates method, and her wealth of knowledge. Literally ANY body can benePHIT from MickiPHIT. Coming from years of experience, she has channeled all of her knowledge and experience into writing this book for everyBODY. Taking away the layers of perceived obstacles by people's mindset, anyBODY can do it—and she shows you how in this fabulous book."
 
Debbie Robbins
Founder of Air Control Pilates
www.aircontrolpilates.com
@aircontrolpilates


–––

"This book is an incredible resource for learning movement in a way that is accessible for EVERY body no matter what stage of life you are in. Micki gives clear and detailed directions, with so many options for modifications. Her exercises are easy for you to follow and will help you achieve your goals. I love the way the photos and descriptions speak to a diverse population. Micki Havard's expert teaching will give you the confidence and strength to exercise consistently and enjoy the work every time you do it!"
 
Jill Harris
Owner of Informed Body
Creator of FitSprings
www.fitsprings.com
@jillharrispilates
 
–––

"Pilates for Everyone written by Micki Havard is exactly what the title implies. Micki doesn't just use words but shows readers that the statement in the title is indeed true. This vibrant book that warmly welcomes the reader into the world of Pilates clearly explains how each exercise is executed. The models, who we also learn about their background, are not Pilates statues but actual everyday people who show that Pilates can be done by everyone. The breakdown of the book—the workouts, variations, modifications, and adjustments—are excellent and show the reader that at whatever fitness level they're at, they too can move with strength and joy!"

Michelle DuVall
Creator of Barre Variations
www.barrevariations.com
@barrevariations
About the Author
---
Micki Havard is a Pilates instructor with more than 20 years of experience. She started practicing Pilates in preparation for her wedding and fell in love with the principles, movements, and results of Pilates. After practicing for a year, she became certified through Power Pilates as a Mat I and Mat II Pilates instructor. Micki is also certified through ACE and AFAA as a wellness coach, strength coach and group fitness instructor.

In 2011, Micki started a wellness coaching company called MickiPhit, where she combined her knowledge of Pilates, group fitness, and nutrition to help her clients achieve their wellness goals. In 2018, MickiPhit launched a membership-based online Pilates studio that offers 24/7 access to step-by-step instructional Pilates videos. Micki provides simplified Pilates instructions for the home or on-the-go Pilates practice. In 2019, she created the PilatesPHIT and ChairPHIT fitness programs and their online certifications. She has an international following and has taught in Greece, Panama, Jamaica, and Aruba.
 
Micki currently lives in Atlanta, Georgia. When she's not teaching clients or filming videos, she loves spending time with her husband, Imari, and her two children, Autumn and Miles.
Praise For…
---
"The diverse cast and regimen modification options go hand-in-hand with Havard's encouraging tone [...]. The result is a welcome and refreshing departure from standard fitness fare."—Publishers Weekly