You are here
Back to top
WORKBOOK For Never Split The Difference: Negotiating As If Your Life Depended On It (Paperback)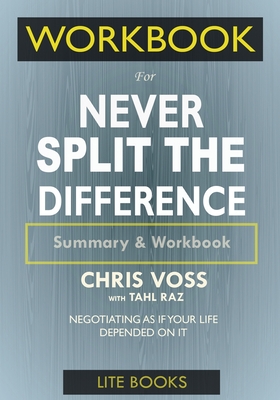 $9.35
Email or call for price.
Description
---
Workbook For Never Split The Difference: Negotiating As If Your Life Depended On It
HOW TO USE THIS WORKBOOK FOR ENHANCED APPLICATION
The goal of this workbook is to help you realize that negotiations are possible, powerful and that you, can always win. This workbook largely exposes you to the amazing world of negotiations and all that it entails.
In the book "Never Split The Difference" by Chris Voss, Voss a former international hostage negotiator for the FBI takes us inside the world of high-stakes negotiations. Revealing the skills that helped him and his colleagues succeed where it mattered most: saving lives. After that, he went ahead to share the nine effective principles―counterintuitive tactics and strategies―you too can use to become more persuasive in both your professional and personal life.
This workbook will help you apply the technics from Chris Voss's book. However, this will only happen when you answer the questions from each chapter genuinely. Not only will these questions help you take charge of negotiations in whatever field, responding to them will help you realize that you can do much more than you've always done with negotiations, thereby making you a master in the field.
Each chapter opens with crucial points/key takeaways. With this, the most remarkable and distinctive points are made available at your fingertips.
So, relax and enjoy your workbook. By diligently carrying out the exercises given to you, you are guaranteed seamless wins in your negotiations.
Scroll Up and Click The Buy Button To Get Started
PLEASE NOTE: This is an unofficial and independent workbook for the book "Never Split The Difference" by Chris Voss. Written by Lite Books.