You are here
Back to top
The Bodybuilding Meal Prep Cookbook: Macro-Friendly Meals to Prepare, Grab, and Go (Paperback)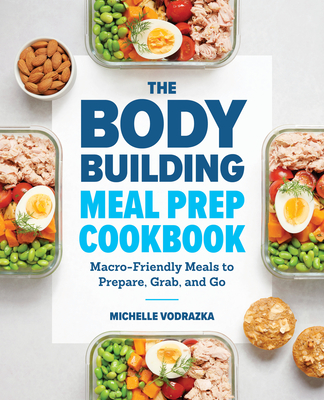 $17.99
Email or call for price.
Description
---
Fuel bodybuilding success with macronutrient meal prep
Sculpting your ideal body demands hard work, dedication, and the right diet.
The Bodybuilding Meal Prep Cookbook
will help you achieve a lean, chiseled look with an array of macro-rich dishes that can be prepped quickly and enjoyed on the go.
What sets this bodybuilding cookbook apart:
6-week meal plan—This step-by-step guide does the heavy lifting for you, laying out what you should make each week to achieve your fitness goals, providing shopping and equipment lists, and guiding you through any advanced prep work.
Success beyond 6 weeks—This cookbook includes 40+ additional recipes that allow you to seamlessly create and customize your meals far past the initial 6-week plan.
Optimize your intake—Each recipe contains comprehensive nutritional calculations, so you know the exact calorie count and the amount of protein, carbs, and fat you're getting.
Pump up your meal prep for the physique you seek with this indispensable bodybuilding cookbook.
About the Author
---
MICHELLE VODRAZKA is a sought-after nutrition and fitness expert, blogger, international speaker, corporate wellness consultant, and former competitive bodybuilder. She is certified as a Culinary Nutrition Expert, Transformational Nutrition Coach, Sports Nutritionist, Certified Plant-Based Chef, Yoga Instructor, and Personal Trainer. You can learn more at michellevodrazka.com.
Praise For…
---
"In her new book, Michelle delves into her years of personal experience and her invaluable expertise to take all the guesswork out of meal planning. She doesn't just give you delicious recipes: she gives you the what and the why behind meal prepping to help you succeed in your health and fitness goals. You're going to love it!"—Cynthia Pasquella-Garcia, celebrity nutritionist and Founder & CEO of the Institute of Transformational Nutrition

"I love The Body Building Meal Prep Cookbook because it breaks it down to the basics - easy to understand for a new meal prepper! As a seasoned meal prepper myself, she covers basics that I forgot about! This guidebook will work for many different eating patterns - as a plant-based eater, I don't feel left out at all! A must-have for your shelves!"—Nicole Osinga, BASC, MAN, Registered Dietitian, vegetarian meal prepper & media personality

"I've always believed nutrition should just make sense! It should be easy for us to fuel ourselves for awesomeness in everyday life. With so much misinformation and conflicting opinions in the world, Michelle's book is a guiding light of knowledge. It offers a 'paint by numbers' approach to fueling oneself for life results. Whether you want to release a few pounds, put on a little muscle, or be at your best, this book is a one-stop shop to get you simple, actionable, practical results."?Dai Manuel, award-winning author and speaker at DaiManuel.com