You are here
Back to top
Restorative Yoga for Beginners: Gentle Poses for Relaxation and Healing (Paperback)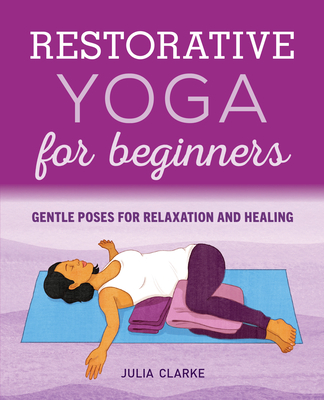 $14.99
Email or call for price.
Description
---
Relax, relieve, restore—a beginner's path to healing with restorative yoga
Recovering from an injury, an illness, or just interested in a natural way to relax? Restorative yoga focuses on simple poses in supported positions, encouraging deep relaxation so your mind can enter a peaceful, meditative state.
Dive in with an introduction to the spiritual origins and rejuvenating benefits of restorative yoga. Find the right position to reduce lower back pain, relieve stress, breathe easier, improve your energy, and even prepare your body for childbirth—all with illustrated instructions to get you into and out of each pose safely and comfortably.
Restorative Yoga for Beginners
includes:
Take it easy—Make restorative yoga a lasting practice with simple suggestions on what to wear and what props you'll need.
Strike a pose—Ease into 36 essential restorative yoga poses, including labels with the therapeutic benefits of each—and extend your practice for deeper healing with 20 sequences.
Breath of fresh air—Refresh your vital energy (prana) with breathing exercises and meditations designed to improve your digestion, heart rate, and more.
Restorative Yoga for Beginners
offers the guidance to begin your yoga practice and bring harmony to your quality of life—one gentle stretch at a time.
About the Author
---
JULIA CLARKE is a yoga teacher and former radio DJ from Scotland who lives in the Rocky Mountains of Colorado. She holds a master's degree in Ayurveda, yoga's sister science, and specializes in the healing arts of yoga.
Praise For…
---
"Stress has become an epidemic. In her new book, Restorative Yoga for Beginners, Julia Clarke expertly makes deep and holistic relaxation possible for every person. By offering this practice in accessible forms, it is one of truly effective self-care with effects that will ripple into practitioners' communities. Her belief in the practice is unmistakable throughout the book; she has thought of everything, including how to turn common household items into the supportive props that make restorative yoga possible. An important addition to every self-care library!"Gina Caputo, Founder, Colorado School of Yoga

"Restorative Yoga for Beginners could not be a more intelligent and comprehensive guide to this gentle and nourishing practice. Julia Clarke's eloquent language pairs seamlessly with the book's beautiful illustrations, inviting readers to sink into the details and instructions informing each pose. Clarke's book evokes a desire to explore more calm and conscious movement, and even more so, stillness."—Kim Fuller, Owner and publisher of CO YOGA + Life® Magazine and Spoke+Blossom Magazine

"There are few voices as mesmerizing and accessible as Julia Clarke's. In this book, she breathes those tremendous teaching qualities into the gifts of rest, relaxation, and ease. She makes restorative yoga an approachable art form that everyone can start practicing from day one, and from there build meditative confidence across a lifetime."—Shannon Paige, Founder, Anjali Restorative Yoga

"Julia's commitment to the life-enhancing benefits of a restorative practice resound through each page of this book. From understanding the physical and psychological gains from the practice, to the actual process of setting up and experiencing the poses, Julia expertly guides the reader through creating an accessible, restful, and balancing restorative yoga experience. Whether one is an experienced practitioner or a beginner, this manual promises to be dog-eared within days of use and a component for a lifetime of balancing the effects of fast-paced, modern living."—Tracey Garcia, M.Ed., Colorado School of Yoga

"Our modern society is in need of collective conscious rest and Julia Clarke's book is the perfect guide to help with exactly that. It's accessible with clear teaching cues and illustrations, making it perfect for everyone ranging from busy parents to college students to high-octane executives."—Dr. Sarah Kucera, DC, CAP, Author of The Ayurvedic Self-Care Handbook

"I've long been a fan of Julia Clarke's grace, her wisdom, and her ability to bring the true essence of yoga to pretty much everything she does. So, imagine my delight to discover her new book, Restorative Yoga for Beginners, in which she provides short sequences designed to soothe and heal—that really work! Commit to doing one every single day and it just may change your life."—Linda Sparrowe, Former editor of Yoga Journal and Yoga International, and author of Yoga At Home and Yoga Mama