You are here
Back to top
Himalayan Style (Architecture, Photography, Travel Book): Shelters & Sanctuaries (Hardcover)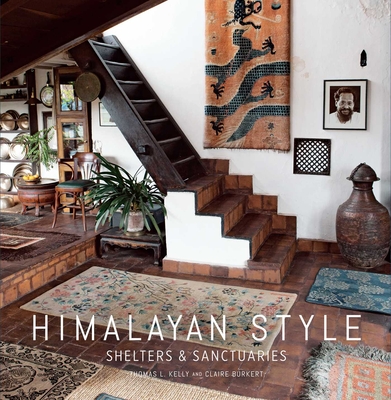 $49.99

Usually Ships in 1-5 Days
Description
---
Featuring gorgeous photography of ancient Himalayan architecture, recent restoration projects, and modern trends in building and crafts, Himalayan Style celebrates the vitality, diversity, and potential of Himalayan forms and designs.

Himalayan Style combines a treasury of beautiful full-color photographs and engrossing essays to offer a comprehensive look at Himalayan design, style, and culture.

Himalayan Style explores the many meanings of style, from the historic structures in Bhutan, India, Nepal, and Tibet that have been renovated and adapted for new purposes, to the icons and rituals of the spiritual traditions of the Himalayas, from the distinctive shapes of stupas to offerings of flowers and tikka powder. Intimate photos of the homes and furnishings reveal how construction methods, materials, and decorative detail impact the lives of its citizens.

This vibrant book celebrates creative ways of living and working in the Kathmandu Valley. Here, designers and craftspeople work together, creating innovative homes and crafts utilizing local materials and techniques.

Renowned for his Himalayan photography, Thomas Kelly's curated collection of images range in focus from a small detail of a Tibetan tea table to a vast mountain landscape dotted with stupas. Himalayan Style offers a fresh look at the beautiful aesthetics of the Himalayas, and so deepens one's understanding and appreciation of this powerfully stunning region.

THE OLD AND THE NEW: Encompassing both ancient and modern architecture, Himalayan Style provides a comprehensive guide into the rich culture, history, and artistry of this magnificent region.

BEAUTIFUL ADDITION TO YOUR COLLECTION: Himalayan Style will captivate you and your guests with page after page of stunning architecture and interior design.

ARMCHAIR TRAVEL: Explore the beauty of Himalayan architecture and style from the comfort of your own home.

A STYLISH GIFT: The perfect gift for design enthusiasts, travelers, and adventurers.
About the Author
---
Thomas Kelly first came to Nepal in 1978 as a Peace Corps Volunteer, and has since become a photo-activist, documenting the struggles of marginalized people and disappearing cultural traditions all over the world. His work has appeared in publications worldwide, including the New York Times, Time, Newsweek, and National Geographic. He currently represents Hinduism Today and runs the travel company Wild Earth Journeys, with his wife, writer and anthropologist Carroll Dunham.

Claire Burkert was born in the United States, but has lived in Asia for nearly three decades. She is the founder of the Janakpur Women's Development Center, an NGO run by female artists in southern Nepal. She has worked with artisans in Nepal, Vietnam, Myanmar, Tibet, and the Gaza Strip to preserve and promote indigenous crafts. Her publications have focused on the traditional art, craft, and dress of Asia.