You are here
Back to top
Complete Book Of Marvels (Paperback)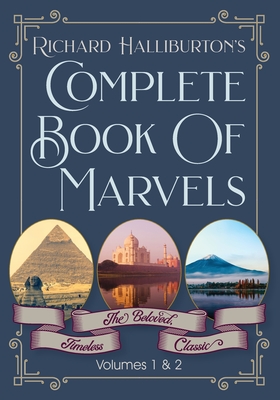 $48.25

Usually Ships in 1-5 Days
Description
---
Take A Whirlwind Tour of the Wonders of the World
Explore the wonders of the world with America's foremost adventurer, Richard Halliburton. In the Complete Book of Marvels Halliburton takes you with him on thrilling journeys to countless wonders of the world, including natural features like Gibraltar, the Grand Canyon, and Mount Fuji, and famous or forgotten temples and ancient cities, and monuments bigger than life. He follows in the footsteps of Demetrius and traverses the Great Wall.
Replete with historical facts, maps, and a treasure trove of unique restored photographs of both well-known and hidden wonders, Halliburton journeys with the reader by his side to reveal the beauty and mystery of the world's greatest sights as if for the very first time. As a youth Richard Halliburton dreamt of seeing the many mysterious lands and exotic locales beyond the horizon, and by the time he was a teenager he set out to do just that. During his life, his voyages took him to an enormous variety of truly marvelous places, from familiar American landmarks to the far reaches of the globe.
Combining the separately published The Occident and The Orient, the Complete Book of Marvels is a timeless classic book for the whole family. The stirring accounts of adventures all over the world inspired a generation of explorers and continues to spark the fires of wanderlust in anyone who discovers it.
This book is also available from Echo Point Books in hardcover (ISBN 1635617103).