You are here
Back to top
The Language of Yoga: Complete A-to-Y Guide to Asana Names, Sanskrit Terms, and Chants (Paperback)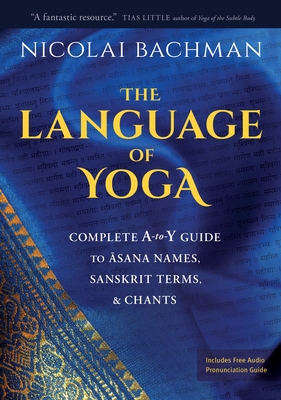 $18.99
Email or call for price.
Description
---
NOTE: To access the audio practices that accompany this book, visit the URL located at the top of the Table of Contents page.

An in-depth reference guide to the vast majority of Sanskrit posture names, terms, and chants used in yoga.

Ashtanga. Adhomukhashvanasana, Chakra. Prana. The complex terminology of yoga can be overwhelming to someone new to the practice.

For longtime Sanskrit and yoga scholar Nicolai Bachman, these words are not just foreign terms to be memorized and recited during practice. In The Language of Yoga, Bachman shows that each syllable is a door to deeper, richer engagement with yoga not only as a physical exercise, but as a living, vibrating connection to the life force of this tradition. Providing translation, cultural significance, and precise pronunciation for more than 200 illustrated asanas, The Language of Yoga is the definitive guide to the modern usage of Sanskrit. You will also discover:

-Why the exploration of yoga philosophy complements and enriches the physical practice
-Correct spelling and pronunciation of common terms you'll likely encounter in the studio
-Mudras and chants for different life circumstances
-Downloadable audio files for pronunciation of hundreds of terms and posture names

More than just a supplement to your yoga practice, The Language of Yoga vividly illuminates an ancient system of sacred syllables that resonate deep in the subtle body. Whether you're a passionate enthusiast or a curious beginner, The Language of Yoga offers an invaluable reference guide for any explorer of the yogic path.
About the Author
---
Nicolai Bachman has been teaching Sanskrit, chanting, yoga philosophy, and Ayurveda since 1994. He has a knack for synthesizing and organizing complex topics into simple and understandable presentations. His education combines informal, traditional study with the academic rigor of university classes. Nicolai has studied extensively at the American Sanskrit Institute, the Ayurvedic Institute, the American Institute of Vedic Studies, and the Vedic Chant Center. He holds an MA in Eastern philosophy, an MS in nutrition, and is E-RYT 500 certified. Nicolai's publications include The Language of Yoga, The Path of the Yoga Sutras, The Language of Ayurveda, and 108 Sanskrit Flash Cards. For more, visit sanskritsounds.com.
Praise For…
---
"This book should, without a doubt, be in the yoga library of every teacher and serious student." –Yoga Journal