You are here
Back to top
A Trip of One's Own: Hope, Heartbreak, and Why Traveling Solo Could Change Your Life (Paperback)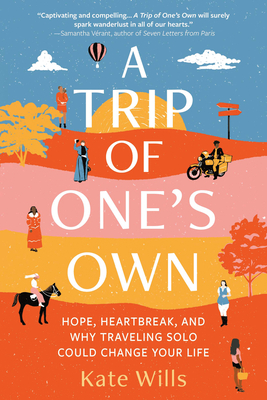 $16.99

Usually Ships in 1-5 Days
Description
---
A travel story is the best story of them all…
Travel journalist Kate Wills wasn't expecting to be divorced after less than a year of marriage, or to be forced to restart a life that had seemed so stable for so long. Luckily, her job as a writer offered her the perfect opportunity to escape from it all. But this time, with no deadlines to hit or all-expenses-paid trips to absorb in a few days before churning out copy for a travel magazine, her jet-setting felt different. There were no photographers working alongside her or assistants booking her flights. For the first time ever, Kate was traveling alone.
Feeling unexpectedly out of her element, Kate began to scour history for stories of female travelers to inspire her. From a 4th-century nun to a globe-circling cyclist, Kate discovered that there have always been astonishing women who have broken free from society's expectations, clearing the path for many of us to do the same.
Funny, heartfelt, and guaranteed to spark wanderlust, A Trip of One's Own is the perfect armchair travel read to inspire you to jump in the car or hop on a plane to explore the world. This book is the must-have next read for any aspiring solo female traveler!
About the Author
---
Kate Wills is a freelance travel and features writer for The Times, The Guardian, The Telegraph, Marie Claire, Elle, Refinery29, and many more.
Praise For…
---
"Captivating, compelling, and beautifully written, Kate Wills' powerful memoir explores the notion of truly being free and embracing the world by dissecting her own life-changing events along with true stories of revolutionary women travelers from the past who said 'hell, no!' to the status quo. A Trip of One's Own will surely spark wanderlust in all of our hearts—through adventures in foreign lands, in our own neighborhoods, or, more importantly, within ourselves." — Samantha Vérant, author of Seven Letters from Paris
"This paean to traveling alone offers inspiration, humor, and generally great reading." — Booklist