You are here
Back to top
Insight Guides Spain (Travel Guide with Free Ebook) (Paperback)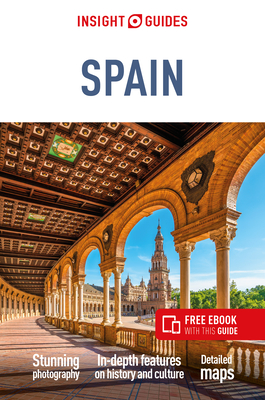 $26.99

Usually Ships in 1-5 Days
Description
---
Insight Guide to Spain is a pictorial travel guide in a magazine style providing answers to the key questions before or during your trip: deciding when to go to Madrid, choosing what to see, from exploring Barcelona to discovering Cadiz or creating a travel plan to cover key places like El Retiro Park, the Gothic Quarter in Barcelona. This is an ideal travel guide for travellers seeking inspiration, in-depth cultural and historical information about Spain as well as a great selection of places to see during your trip. This guide book has been fully updated post-COVID-19.
The Insight Guide Spain
covers:
Madrid, Madrid Province, Castilla y Leon, Castilla-La Mancha, Extremadura, Seville, Cordoba, Granada, Andalusia, Valencia and Murcia, Barcelona, Catalonia, Aragon, Navarre and La Rioja, The Basque Country, Cantabria and Asturias, Galicia, The Canary Islands, The Balearic Islands. In this travel guide you will find:
IN-DEPTH CULTURAL AND HISTORICAL FEATURES
Created to explore the culture and the history of Spain to get a greater understanding of its modern-day life, people and politics
BEST OF
The top attractions and Editor's Choice highlighting the most special places to visit around Spain
CURATED PLACES, HIGH-QUALITY MAPS
Geographically organised text cross-referenced against full-colour, high-quality travel maps for quick orientation in Andalusia, Catalonia and many more locations in Spain.
COLOUR-CODED CHAPTERS
Every part of Spain, from Galicia to the Madrid Province has its own colour assigned for easy navigation
TIPS AND FACTS
Up-to-date historical timeline and in-depth cultural background to Spain as well as an introduction to Spain's food and drink and fun destination-specific features.
PRACTICAL TRAVEL INFORMATION
A-Z of useful advice on everything from when to go to Spain, how to get there and how to get around, as well as Spain's climate, advice on tipping, etiquette and more.
STRIKING PICTURES
Features inspirational colour photography, including the stunning Guggenheim Museum and the spectacular El Teide.
FREE EBOOK
Free eBook download with every purchase of a printed book to access all the content from your phone or tablet, for on-the-road exploration.