You are here
Back to top
Dynamic Aging: Simple Exercises for Whole Body Mobility (Paperback)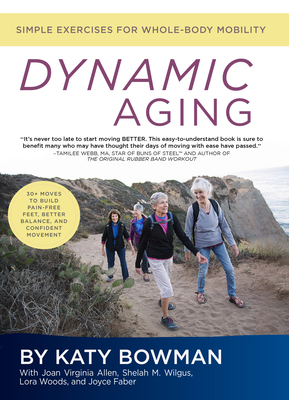 $16.95

Usually Ships in 1-5 Days
Description
---
As seen on the Today Show
Dynamic Aging isn't that same old "senior fitness," "senior stretching," "senior strength" book you've seen again and again. This book is about using simple exercises to feel better and get back to living vitally no matter your age. Don't blame your age if you're feeling creaky. It could just be the way you're using (or not using) your body. ―Washington Post on Dynamic Aging as a "Book for the Ages"
Movement is a powerful tool and changing how you move can change how you feel, no matter your age. Dynamic Aging is an exercise guide geared to an over-50 audience that includes:
30+ illustrated exercises
moves for pain-free feet and strong hips
moves for better balance and getting over the fear of falling
how to improve sitting, standing, and walking posture
go from stiff shoulders to arms that can reach, carry, and lift
how to stay fit to drive
tips for moving more in daily life
Alongside Bowman's exercise and alignment instructions are stories and advice of four women over seventy-five who began this program over a decade ago. Along the way they found recommended surgeries unnecessary, regained strength and mobility, and ended up moving more than they did when they were 10 years younger.
From hiking in the mountains to climbing ladders and walking on cobblestones with ease, each of these women embodies the book's message: No matter where you're starting, if you change how you move, you can change how you feel.