You are here
Back to top
Coastal Landscapes: South Jersey from the Air (Hardcover)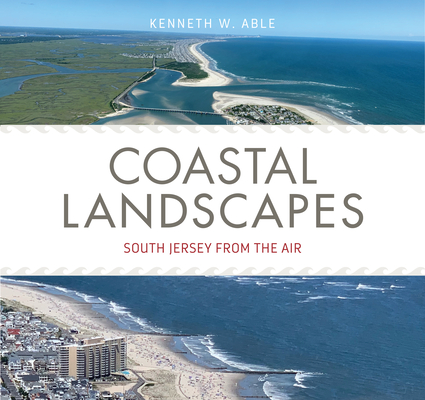 $76.60
Email or call for price.
Description
---
New Jersey has roughly one hundred and thirty miles of coastline, including a wide array of habitats from marshes to ocean beaches, each hosting a unique ecosystem. Yet these coastal landscapes are quite dynamic, changing rapidly as a result of commercial development, environmental protection movements, and of course climate change. Now more than ever, it is vital to document these landscapes before they disappear. 
 
Based on numerous aerial images from helicopter and drone flights between 2015 and 2021, this book provides extensive photographs and maps of the New Jersey coast, from the Pine Barrens to the ocean beaches. The text associated with each exceptional image describes it in detail, including its location, ecological setting, and relative position within the larger landscape. Author Kenneth Able, director of the Rutgers University Marine Field Station for over thirty years, has thoroughly ground-truthed each image by observations made through kayaks, boats, and wading through marshes. Calling upon his decades of expertise, Able paints a compelling portrait of coastal New Jersey's stunning natural features, resources, history, and possible futures in an era of rising sea levels. 
 
About the Author
---
KENNETH ABLE is a distinguished professor emeritus at Rutgers University, where he taught in the Department of Marine and Coastal Sciences for forty-two years and directed the Rutgers University Marine Field Station in Little Egg Inlet for thirty-two years. He is the author of three books and over two hundred and sixty peer-reviewed papers on marine and estuarine research.
Praise For…
---
"Dr. Able is truly an expert on Southern New Jersey with decades of personal knowledge. Coastal Landscapes is a vivid and powerful way to use unique imagery to help share his experiences and perspective–a must-have book on the region."
— David Tulloch
"Coastal Landscapes provides new and intriguing views of landscapes readers might already be familiar with from the ground. There are few people that combine Dr. Able's academic expertise along with his boots-on-the ground perspective on these coastal ecosystems."
— Richard G. Lathrop Jr.
"The Jersey Shore is one of the nation's great natural and scenic resources, with the great forests of the Pine Barrens feeding extensive marshes and estuaries formed by beautiful barrier islands. With his scientific expertise and vast knowledge of the region, Ken Able is an ideal guide to showcase this extraordinary systems of interconnected ecosystems."
— Carleton Montgomery