You are here
Back to top
Okinawa and the Ryukyu Islands: The First Comprehensive Guide to the Entire Ryukyu Island Chain (Revised & Expanded Edition) (Paperback)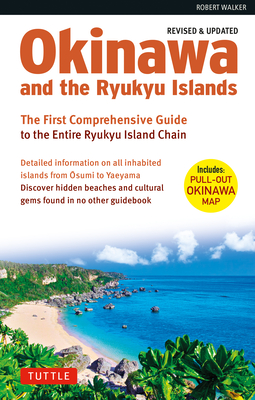 $24.99

Usually Ships in 1-5 Days
Description
---
Discover the beauty of Okinawa and the Ryukyu islands with this stunning, detailed guide
The beautiful islands of Okinawa and the Ryukyu chain contain some of the most scenic spots in the planet--including many UNESCO World Heritage Sites. Dozens of these islands are inhabited and can be easily explored. Visitors are offered opportunities to trek up active volcanoes, soak in natural hot springs, enjoy pristine white sand beaches, tour ancient castles and temples, and sample world-renowned Okinawan dishes. The silver medal award winner of the 2015 Lowell Thomas Travel Award, this is the first and only comprehensive guide to the 150-island chain that stretches 600 miles (1,000 km) from Japan to Taiwan. Author Robert Walker has explored the area for decades and tells you exactly where to go, how to get there, where to stay, and what to do and see. In addition, this new edition has been expanded with information about the recent Shuri Castle fire as well as coverage of additional sights. This detailed guide contains:
Complete ferry and flight information
Where to find the best beaches and surf spots
Places suitable for families with children
Hikes and nature walks for all ages and abilities
Hotel and restaurant recommendations
A large pull-out map with insets of the major towns
And so much more
Lavishly illustrated with 300 color photos and 40 maps, this book has all the information you'll need to plan your stay in this gorgeous region.
About the Author
---
Robert Walker has traveled extensively throughout the Ryukyu Islands for 25 years and lectures about them to groups all over the world. He has visited even the most remote of the inhabited islands. He splits his time between Okinawa and Virginia.