You are here
Back to top
Chuck Palahniuk's Little Book of Selected Quotes: on Love, Life, and Society (Paperback)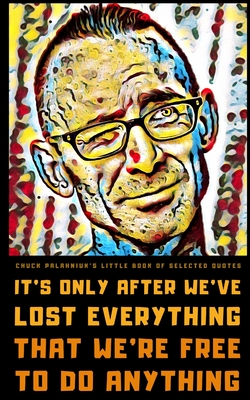 $6.99
Email or call for price.
Description
---
There's an opposite to d j vu. They call it jamais vu. It's when you meet the same people or visit places, again and again, but each time is the first. Everybody is always a stranger. Nothing is ever familiar. - Chuck Palahniuk
Selected quotes by Chuck Palahniuk now at your fingertips
Perfect for casual reading, taking ideas, and inspiration
Makes for a unique gift idea
--
Are these things really better than the things I already have? Or am I just trained to be dissatisfied with what I have now?
Chuck Palahniuk
--
Have your adventures, make your mistakes, and choose your friends poorly -- all these make for great stories. - Chuck Palahniuk