You are here
Back to top
The Everyday Athlete: How to Balance Work, Family, and Fitness for Life (Paperback)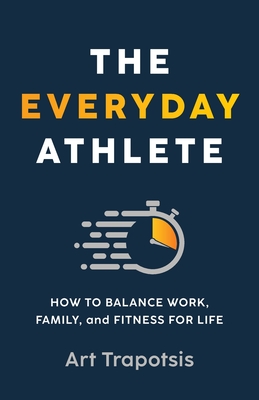 $12.95

Usually Ships in 1-5 Days
Description
---
Put fitness into practice with this balance-driven guide from cyclist, CEO, and coach Art Trapotsis.
Do the demands of your career, family, and life constantly sabotage your efforts to improve your fitness? Exercise is vitally important for good health, but it usually takes a back seat when life becomes busy. You might prioritize your work and family relationships out of what seems like necessity, but before you realize it, your fitness goals are pushed aside and you feel stressed out and unbalanced. The bright side? It doesn't have to be that way.
In The Everyday Athlete, Art Trapotsis-father, husband, CEO, and endurance athlete-shares:
- How fitness is the most important-and often overlooked-ingredient to finding balance in life
- How to develop and nourish a fitness mindset and make exercise a consistent part of your routine
- Methods and best practices to get fitter without jeopardizing your relationships or career
Current, former, and future athletes of all kinds, from seasoned competitors to weekend warriors, will find useful tools for improving fitness along with work-life balance. The included "KIT Quiz" offers a gut check on your current balance and tips for how you can improve it. Whether you're training for a major event, reviving your fitness routine, or starting fresh, you'll find motivation and inspiration from the author's personal stories and unique approach for squeezing fitness into a busy life, thereby creating balance. Everyone can be an athlete, every day.